Excavation & Landscape Grading Solutions
Family owned and operated, licensed, fully insured, with two generations and more than 25 years of experience, M & C Enterprises, Inc. provides comprehensive and economical excavation and grading solutions for a wide variety of commercial and residential landscape projects. Helen and Michael Draviczky provide the highest quality services from prep to clean-up at competitive prices, backed by experience and pride.
Our most frequently requested landscaping services include:
Excavating / Excavation
Grading, Topsoil & Seeding
Field Cutting
Footings
Demolition
Pond / Basin Excavation
Storm Water Drainage
Swimming Pool Fill-in
Land Clearing
Tree Removal
If you need a landscape grading contractor, an excavating contractor or other services please call 610-485-6100 for information on how M & C Enterprises can meet your needs and complete your requirements quickly and economically.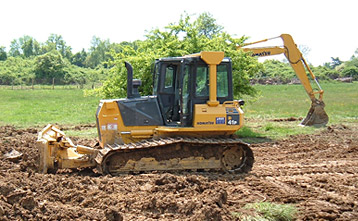 Contact Us Today. Click Here!
Excavation contractor serving Southeastern Pennsylvania including Delaware County and Chester County.
For welding and fabrication services see MCWeldingServices.com